The LAND series watches are equipped with almost everything Bear Grylls needs to survive on any adventure on land. The 45 mm CARBONOX™ cases are not only water resistant to 200 meters, the watches of the LAND series are also chronographs and are perfect for calculating walking speed. For this purpose, the bezel was equipped with a special scale. This watch comes with a black dial and a black rubber strap with special tape markings. It is also equipped with a compass on the bracelet.
---
Origin: Swiss Made

Always Visible: Permanent lighting for up to 25 years

Case diameter: 45 mm

Function: Chronograph with date

Water resistance (meter, foot, ATM): 200 / 660 / 20

Movement: Swiss Quartz

Housing material: CARBONOX™

Bezel: Fixed

Caseback: 316L stainless steel screwed

Glass: Tempered Mineral Glass (550-650 Vickers)

Crown: Screwed with double seal and crown protection

Bracelet: Kautschuck

Band thrust width: 24 mm

Height: 14 mm

Weight: 89g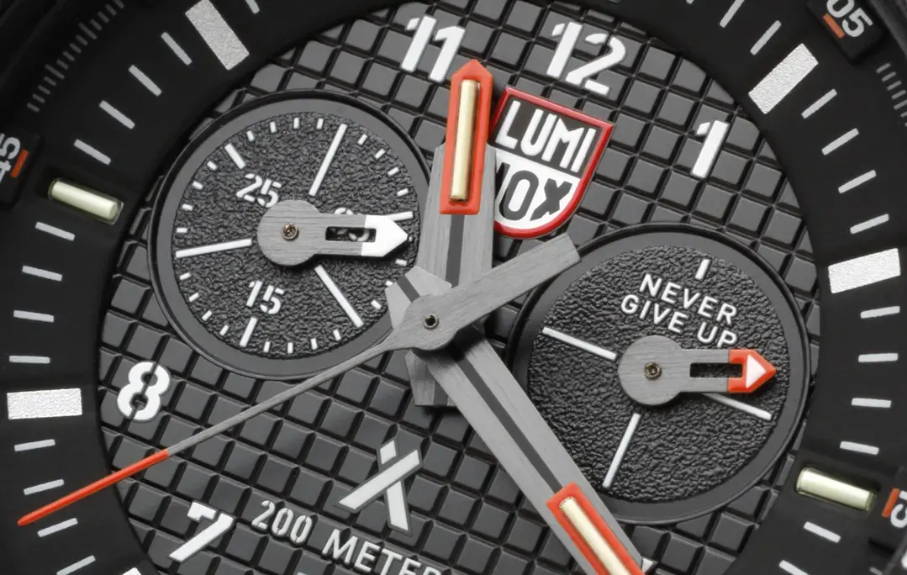 The chronograph function is set off from the normal time display by smaller dials. It is operated by the two pushers on the right side. With the upper pusher, the timer is started or stopped, the lower pusher resets the measured time. A reliable tool for your everyday life, because: #EverySecondCounts.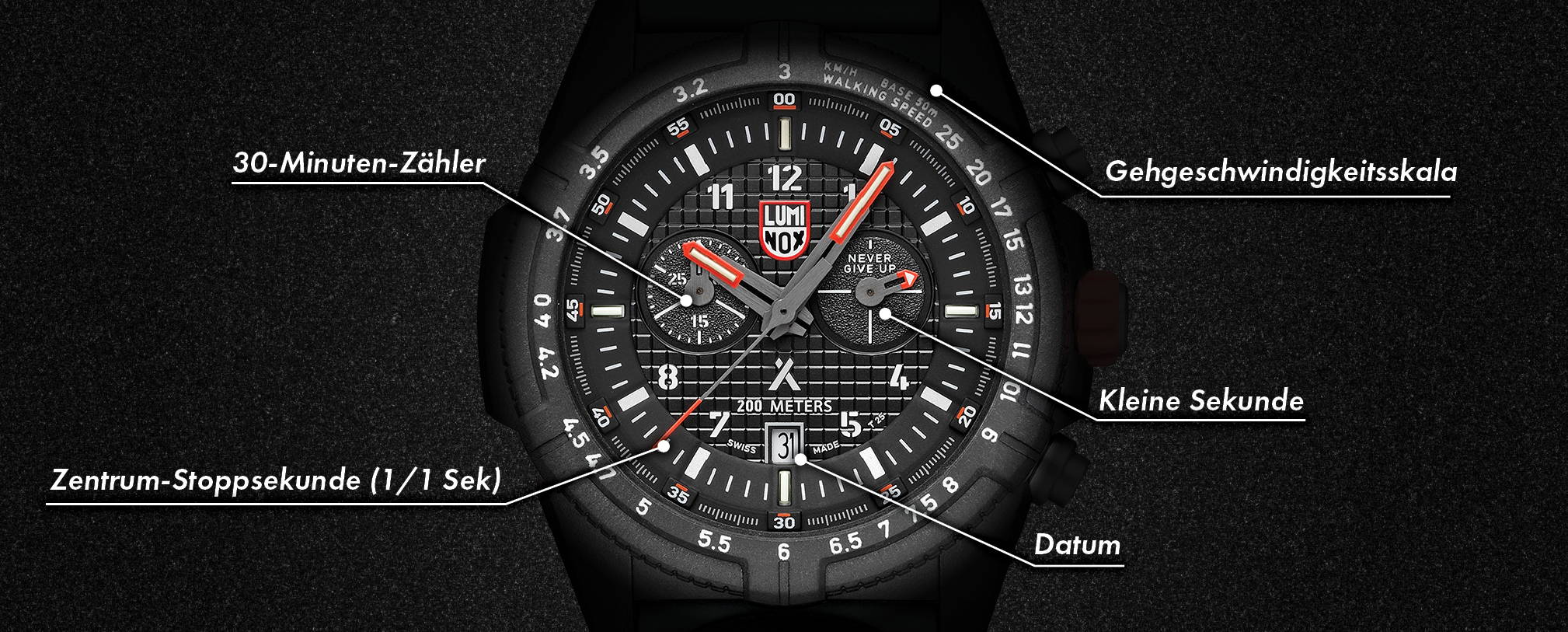 Calculate your walking speed
With the help of your Bear Grylls Survival watch, you can calculate your average walking speed/hour.
Run as soon as the second hand is at 12 o'clock. When you reach a distance of 50 m, the second hand on the bezel shows you your approximate speed.
Please check in advance how many steps you need for 50 meters, as the respective stride length can be very different.
This compass can easily be pulled onto your wristband and removed again. Bear Grylls' favorite color is picked up by an orange accent. If you just can't use the sun for orientation, the compass is an extremely helpful tool. Only magnetic fields can affect accuracy.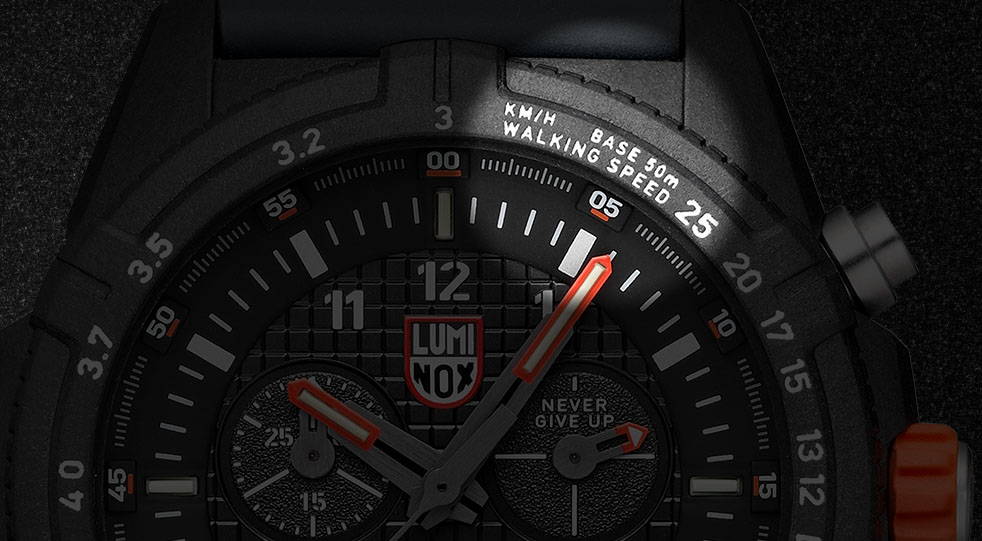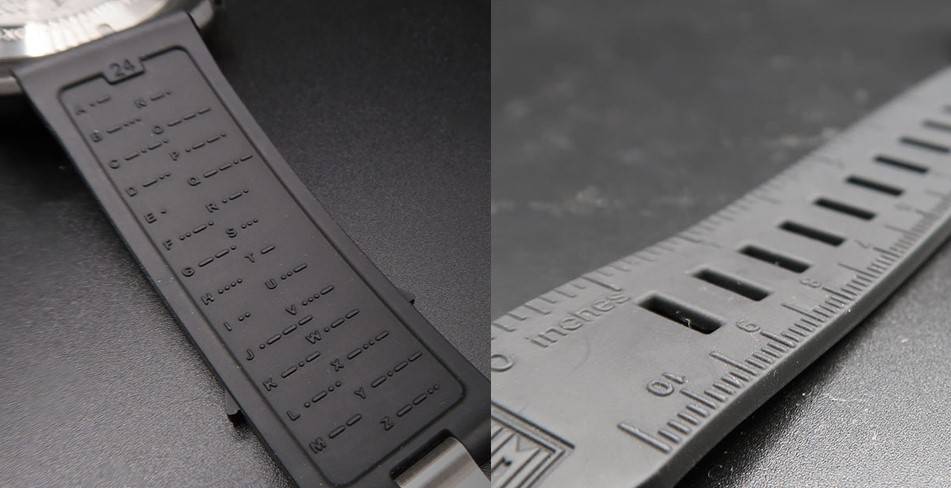 On the back of this bracelet, Morse characters are integrated, both numbers and letters. Morse signs are of great use in a dangerous situation, e.g. if soS signs have to be sent with the help of a flashlight.
The front of the bracelet contains a functional ruler, once with inch specifications and once with centimeters.
Every Luminox watch can be read at any time, whether on or under the water, on land or in the air, by day or at night. The energy-independent Luminox Light Technology (LLT) consists of micro-gas tubes containing small amounts of tritium. This allows the watch to glow visibly for up to 25 years without an external power source – i.e. without electricity, battery or sunlight.