The Bear Grylls Survival 3729 model features a CARBONOX™ case. CARBONOX™ is an exclusive carbon-based material that is lightweight, hypoallergenic and extremely durable and robust. All watches in the Bear Grylls Survival Kollection 3720 series bear bear Grylls logo and motto, "Never Give Up", on the dial and feature a special two-tone caseback decorated with Gryll's signature and the lettering "Never Give Up" in bright orange. This tactical watch comes with a rubber bracelet and has an orange dive zone with count up marking.
---
Origin: Swiss Made

Always Visible: Permanent lighting for up to 25 years

Case diameter: 42 mm

Function: Time / Date

Water resistance (meter, foot, ATM): 200 / 660 / 20

Movement: Swiss Quartz

Housing material: CARBONOX™

Bezel: One-sided rotating

Caseback: 316L stainless steel screwed

Glass: Tempered Mineral Glass (550-650 Vickers)

Crown: Screwed with double seal and crown protection

Bracelet: Kautschuck

Band thrust width: 24 mm

Height: 14 mm

Weight: 74g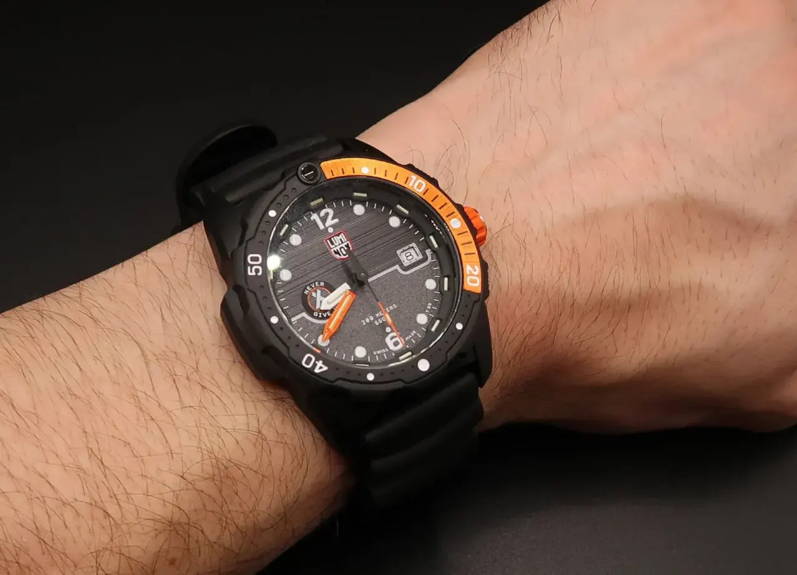 The bezel of the SEA series has a special diver display with a mark of 1 - 20, which is highlighted either blue or orange. This function is of great importance in diving situations, as divers can use it to monitor decompression when they appear.
The one-sided-rotating bezel ensures that the diver can never inadvertently move the bezel and thus distort its calculated results.
All watches in the Bear Grylls Survival collection have the logo and motto of Bear Grylls on the dial and have a special two-tone caseback with Bear Gryll's signature and "Never Give Up" in bright orange.
"Never Give Up" is a vital inner attitude to defy all resistance and dangerous situations. Only through your own willpower and well-considered actions can you make it alive from difficult situations!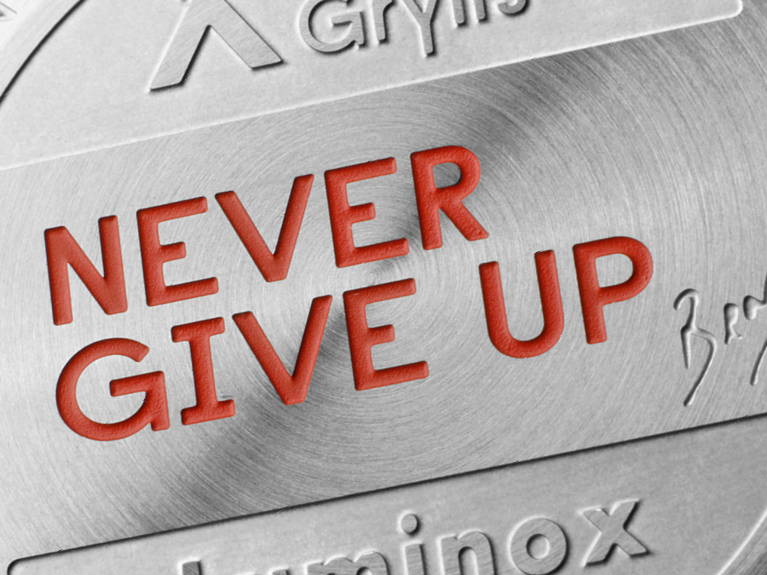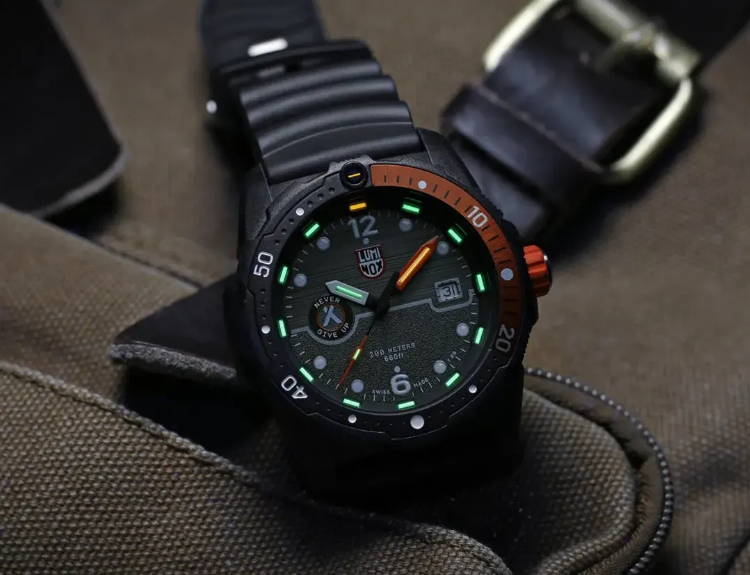 Every Luminox watch can be read at any time, whether on or under the water, on land or in the air, by day or at night. The energy-independent Luminox Light Technology (LLT) consists of micro-gas tubes containing small amounts of tritium. This allows the watch to glow visibly for up to 25 years without an external power source – i.e. without electricity, battery or sunlight.