BRAND INTRODUCTION
Founded in 1856 In Neuchâtel, Switzerland, Swiss watch manufacturer Ernest Borel builds its reputation by 165 years of watchmaking savoir-faire and heritage. Inspired by the corporate ethos of 'Romantic Moments', the creations of Ernest Borel are recognized for their excellence design and quality, confirming the brand's legacy as the paragon of Swiss-made couple watches and the leading position in the Swiss luxury watch industry.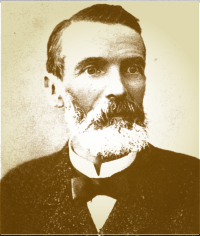 1856
With the belief to produce excellent watches, young Jules Borel aspired to establish his own brand, and began his long watchmaking career in Neuchâtel, Switzerland, the "Watchmaking Kingdom". Different from his quiet forefathers, Jules Borel was determined to turn the family business into an international corporate.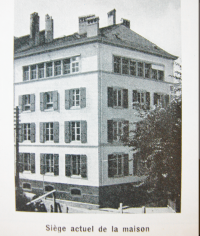 1859
Jules Borel and his brother-in-law Paul Courvoisier founded Borel and Courvoisier Company.

1860
Our first international buyers were watch stores from Hamburg, Germany; Genoa, Italy; London, United Kingdom; United States and even South America.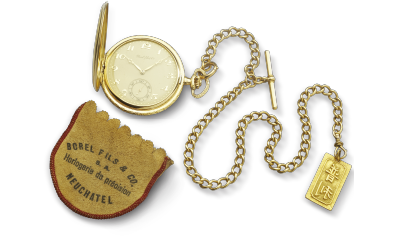 1861
Ernest Borel became an active international watch brand in 1861, products besides watches, also pocket watches and alarm clocks.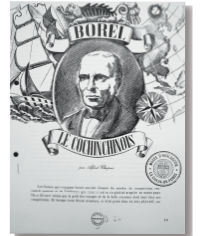 1866
Borel and Courvoisier Company won the First Prize of Similar Products in watch contest held by Neuchâtel Observatory, the highest authority of Switzerland, and received a global sales license of watch, it established their significant position as a world-class watchmaking company.
1875~1876
In 1875, Borel and Courvoisier Company won the second and sixth place of the watch contest held by Neuchâtel Observatory again. In the next year, Borel and Courvoisier Company was awarded the Quality Certificate in the Watch and Pocket Chronometers International Exhibition of Philadelphia in United States.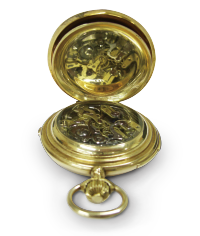 1878
The timepieces produced by Borel and Courvoisier won the Gold Medal of Swiss Watch Industry in Paris, France. In the meanwhile, the Company completed a major technological progress and was patented: to wind up a watch with a crown, a rod or a bolt. It transformed the traditional way to wind up and set up time, it played an important role in the history of watchmaking development.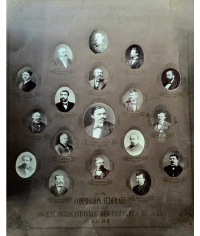 1881
Jules Borel became a member of the Swiss Federal Council. The image shows the half-length portraits of important members in the Council.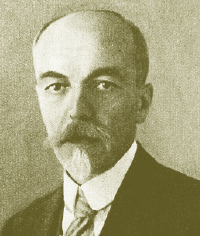 1894
Jules Borel retired due to old age, and was succeeded by his son Ernest Borel. The company was renamed as Borel-Courvoisier.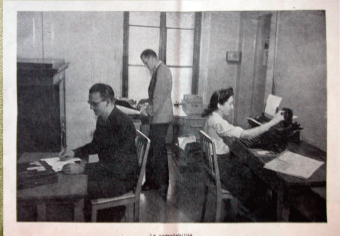 1898
Ernest Borel cooperated with Adamir Debrot, who was in charge of Technology, and Ernest Borel changed the company name into Ernest Borel & Cie. In the meantime, the production technology of Ernest Borel was rapidly improved, in particular the improvement and enhancement of winding system, gear, and other accessories such as the screw and push pieces. Ernest Borel set up a good reputation in the industry with its hardworking and progressive spirit. The precision, professionality and functionality of the products are impeccable.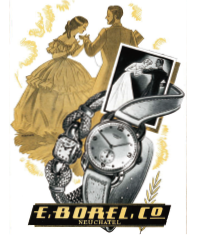 1898 Birth of the Lovers Dancing Trademark
In 1898, the trademark of this time-honored brand was born with a beautiful and romantic story. At a noble party, the young Ernest Borel met a beautiful girl, they danced together affectionately. Their graceful dance attracted the envious eyes of a photographer that he couldn't help taking a picture; it inspired Ernest Borel to design the trademark of Ernest Borel with the couple dancing image. No matter how time goes by, the couple dancing logo had left an unforgettable impression in everyone's heart. This is the origin of the brand essence "Romantic Moments".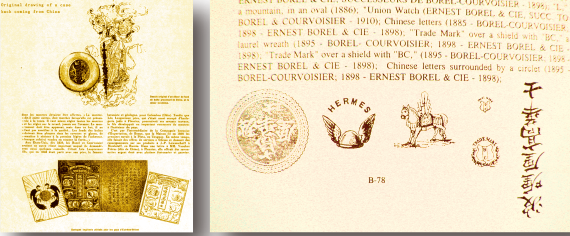 1903
The sales of Ernest Borel came to China over a six-month journey and sold 388 watches in a short time. From then on, Ernest Borel created an indissoluble bond with the Ancient Oriental Country, China. The historical fact is still recorded in the International Museum of Watches in La Chaux-de-Fonds, Switzerland.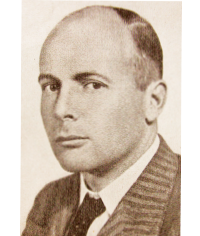 1927
Ernest Borel's son Jean-Louis Borel joined the Company, infusing a powerful new force to the company.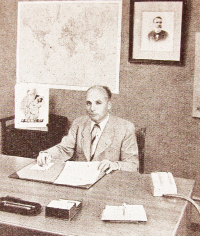 1936
Jean-Louis Borel took over this increasingly prestigious family business, and reorganized it into a limited liability company. The Board of Directors composed of Chairperson Ernest Borel, Director Jean-Louis Borel, and Technical Manager Adamir Debrot. This was a milestone in the course of development of the Ernest Borel watch family. Since then, with the combination of excellent addition, consummate technology and modernized production line, Ernest Borel has continued to launch various exquisite timepieces and accessories. Even during WWII, Ernest Borel still continued to produce watches, which gained an international reputation as a leading watchmaker in the industry.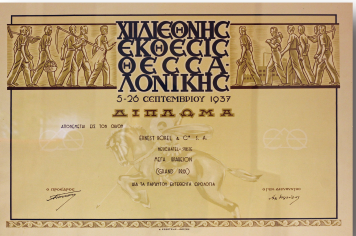 1937
Ernest Borel won the Honorable Award of Grand Prix in Greece. The excellent craftsmanship, romantic essence and the "lovers" trademark of Ernest Borel were deeply impressed into the mind of customer with international praises.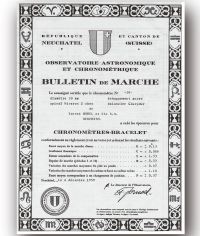 1945~1959
The C.O.S.C. (The Swiss Official Chronometer Control) awarded the certificate of "Bulletin de marche" to 4,172 Ernest Borel watches, the total quantity of watch produced by the company at that time; this was undoubtedly an admirable achievement.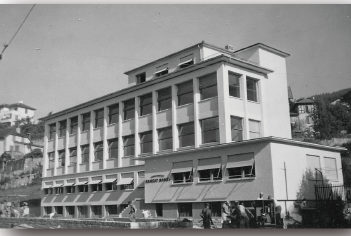 1946
To meet the needs for long-term development and maintain premium level of watchmaking, the Board of Directors of Ernest Borel decided to invest in building a new factory and adding advanced equipment. To improve both quality and quantity of watchmaking, the construction started on the following year.

1947
On 10 October 1947, the new factory of Ernest Borel was officially opened. The opening ceremony attracted many public figures and notables.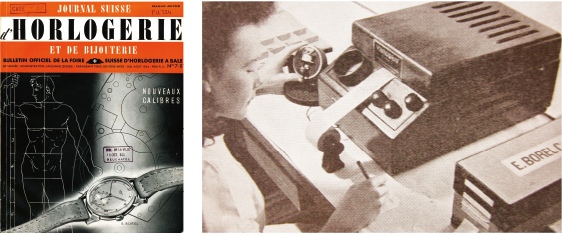 1948
The new factory was well-equipped with advanced equipment and the company invested lots of resources in research and development work, the related projects of Ernest Borel moved a big step forward.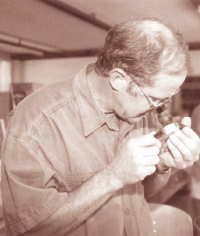 1958~1962
From 1958 to 1962, Ernest Borel had won several awards and certificates issued by Neuchâtel Observatory, Switzerland.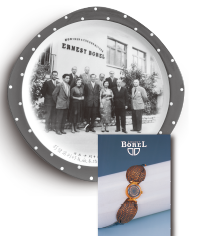 1980s
With China's reformation and openness to the new business, the time-honored, refined and prestigious romantic brand of Ernest Borel was combined with the profound traditional culture and modern taste of China, creating a brand-new consumption concept for Chinese consumers.
1997
In 1997, Ernest Borel S.A. was officially established at La Chaux-de-Fonds, more modernized watchmaking technology has been developed since then.
2005
In 2005, Ernest Borel S.A. officially became a member of Federation of the Swiss Watch Industry (FH).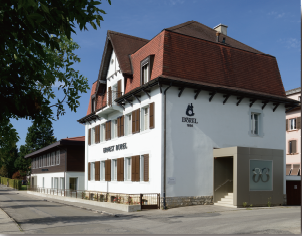 2009
To cope with the rapid business expansion, Ernest Borel moved its headquarters and factory from La Chaux-de-fonds to Le Noirmont.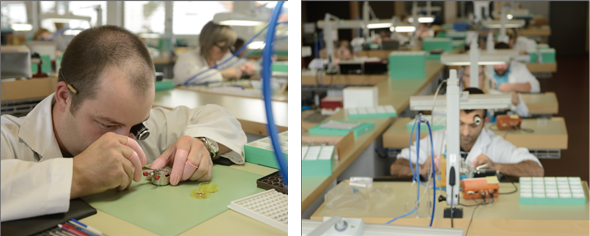 2010
In 2010, Ernest Borel rapidly expanded its territory globally, new stores has been opened in Switzerland, United States, China, France, Russia, Turkey, Ireland, Ukraine, and many other countries.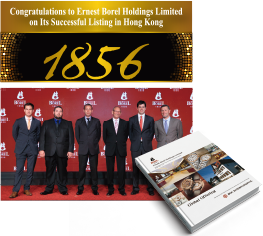 2014
Ernest Borel officially listed on the Main Board of Stock Exchange of Hong Kong Limited ("SEHK") on 11 July 2014. Taking the founded year – 1856 as stock code was a meaningful way to commemorate this important milestone.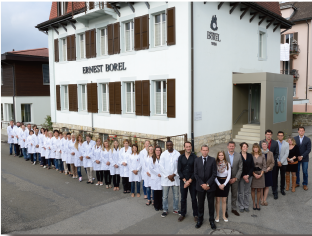 2016
The brand celebrated its 160th Anniversary in 2016. The brand announced its heyday and made major strategic upgrades on consumption patterns in global market. Ernest Borel's sales network has increased to over 1000 point-of-sales globally until 2016.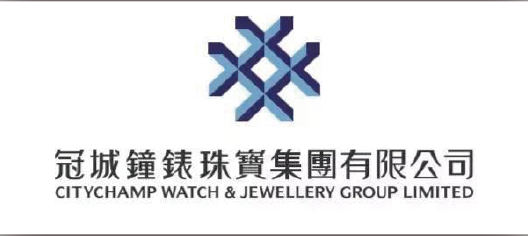 2018
On 18 September 2018, VGB Limited, a wholly-owned subsidiary of Citychamp Watch & Jewellery Group Limited (stock code: 256), completed the acquisition of part of the equity interest in our company (stock code: 1856), our company has become an indirect non-wholly owned subsidiary of Citychamp Watch & Jewellery Group Limited.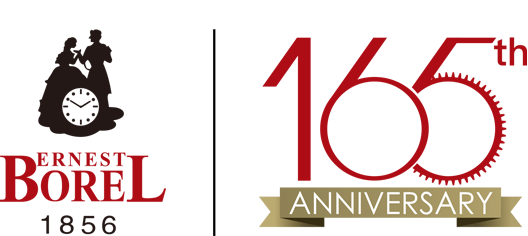 2021~2022 A world-renowned name rooted in Switzerland
2021 marks the 165th anniversary of Swiss watchmaker Ernest Borel, a horological legend of extraordinary craftsmanship and cultural lexicon. Looking ahead, Ernest Borel will stay true to its values in its journey towards new heights.